Omega Speedmaster Professional X-33 is an enigmatic Omega. There are several very good articles on this watch on the web:


And even the user manual for the X-33 is on-line thanks to Chuck Maddox.
In a nutshell, the X-33 was designed as an addition to the venerable Omega Speedmaster Professional line with help and feedback from pilots and NASA astronauts. I knew about the X-33, but never paid any particular attention to it until this year. I was a mechanical watch man through and through and really could not care less about the quartz watches. This all changed when I got to play with a Breitling Aerospace at the Tourneau store in Santana Row.
While I was researching a Breitling Aerospace purchase, a post on Timezone caught my eye and after a couple web searches, I decided that the watch to have was not a Breitling Aerospace but an X-33. A couple days later, I bought a new old stock watch from a
used watch dealer in Boston
and it was delivered the next day.
Here you can see a few pictures of my X-33.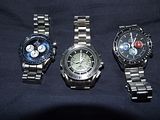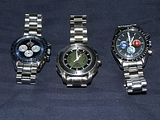 So far, I love this watch. The functionality is great, the fit and finish is above any quartz watch that I have ever owned. The backlight is like a torch and the alarm is loud, although, I don't think mine generates the 80 dB alarm listed on the owner's manual.
As you probably guessed by now, this week's post is about the X-33 prices. Omega stopped selling the X-33 to the public about a year ago. The dealer stock,based on my informal checks to most of the dealers in the Bay Area and a few across the US, is all sold out. The factory stock also seems to be depleted. While, there are no published figures on the sales of the X-33, it is easy to make an educated guess based on the list price (over $2900 at launch) and the limited water resistance of this tool watch that this watch never sold in large numbers. This all indicates a very scarce supply of these watches in the used market.
There are two versions of the Omega X-33 even though it had a very short time span. The first generation watches (commonly referrred to as X-33 Gen 1) are identified by a shiny bezel, a regular crown and polished pushers for the additional functions. A first generation X-33 is pictured below:
(This image is provided by rakuten.co.jp. Thank you for allowing us to use it)
My X-33 is a second generation, with the improved crown (much easier to pull), satin-finished bezel and pushers.
The market seems to prefer the Gen 2 X-33, but due to the scarcity of the supply, I could not detect a more than $100-200 difference in the price of the two generations on the used market. The scarcity is such that as I write this article, there is only one X-33 on ebay listed for sale and it is from Germany. Taking a look at the completed auctions reveals that average selling price of the X-33 was approximately $1325 over the last three weeks. One of these was at $931 and it was a watch that I bought and returned to the seller. It was a heavily used example that needed significant cosmetic work but it was in good working condition. Taking the outliers out of the average, you end up with a less biased number of $1400.00. This number includes watches with the Kevlar strap (which was the preferred option for astronauts) and titanium bracelet.
Searching the listings at the watch forums, I find that you can find a new old stock watch from the far east listed at $1700 but with no boxes. At the time of this writing, there are no used watches listed on my favorite forums which is a clear indication of scarcity.
Here is my 30-second summary on the X-33 pricing as of July 22, 2007.
For a Gen 2 X-33 with a titanium bracelet in excellent condition, with full documentation and boxes etc, expect to pay between $1500-1900 whether it is new old stock or is a gently used example. I expect a Gen 1 X-33 with a titanium bracelet in a similar condition with all of its accessories to fetch between $1300 - 1700.
For a Gen 1 X-33 with a titanium bracelet in good condition (minor scratches that can be easily buffed out, no dings on the crystal and AR coating intact), with full documentation and accessories, expect to pay between $1000-$1300. A Gen 2 X-33 in a similar condition should fetch about $200 more.
Finally, for a Gen1 X-33 with a titanium bracelet that is in "heavily used" condition with deep scratches on the case and the bracelet, possible dings to the crystal and AR coating in less than perfect condition, expect to pay between $650 and $950. Due to the scarcity and the relative newness of the Gen 2 X-33 (introduced in 03, widely available in 04) , I don't expect to see a beat-up Gen 2 X-33 until 2009 at the very least, but of course, I take care of my watches religiously.
For all the prices above, at the high end, deduct a $300, for a watch without the titanium bracelet. The titanium bracelet is available at a price of $895 from several sources on-line. At the bottom end for heavily used watches, expect a $50-75 discount if they only come with a kevlar strap.
As of this writing, the X-33 is only available to NASA and military as a special order item with an insignia in the back. Omega dictates that watches acquired through this program
must
not be resold for a period of 5 years.
In conclusion, the Omega Speedmaster Professional X-33 in either of its incarnations is an excellent tool watch. With its scarcity and its status as a NASA mission-qualified watch, I expect the prices to go up moderately. If you have one, enjoy it carefully. If you don't own one but want one, I recommend going for a Gen 2 X-33 with the titanium bracelet.
See you next month.
(c) Copyright July 22, 2007. All rights except linking to the article are reserved.